The Environmental Impacts of Hydro Excavation
It's much better than traditional excavation methods.
Posted 12:43 January 19, 2023
Last Updated 12:43 January 19, 2023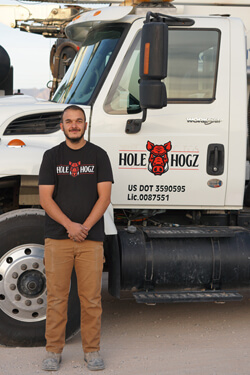 Hydro excavation, also known as "water jetting," is a method of excavating soil and rock using high-pressure water jets and a
vacuum system to remove the debris
. This technique is becoming increasingly popular in the construction and utility industries due to its ability to excavate quickly and with precision, while minimizing damage to surrounding areas. In fact, hydro excavation has several positive environmental impacts that make it a preferred method for many projects.
One of the main benefits of hydro excavation is its minimal impact on the surrounding ecosystem. Unlike traditional excavation methods, such as using heavy machinery, hydro excavation causes less disruption to the natural landscape. It allows for a more targeted excavation process, which minimizes the removal of unnecessary soil and vegetation. This can help to preserve the natural ecosystem and reduce the amount of restoration required after the project is complete.
Another positive impact of hydro excavation is its ability to reduce soil compaction. Soil compaction can occur when heavy machinery is used to dig trenches, causing the soil to become denser and less permeable. This can lead to decreased water infiltration, reduced oxygen levels in the soil, and reduced plant growth. Hydro excavation, on the other hand, uses high-pressure water to loosen the soil and a vacuum system to remove the debris, which helps to minimize soil compaction. This can lead to improved soil health and increased plant growth in the area.
Hydro excavation also has a lower carbon footprint compared to traditional excavation methods. The use of heavy machinery in traditional excavation methods consumes a lot of fuel, which contributes to air pollution and greenhouse gas emissions. Hydro excavation, on the other hand, relies on water and air pressure to excavate, which does not produce emissions and consumes less energy. Additionally, hydro excavation can help to reduce the need for transportation of heavy equipment, which can also reduce emissions.
Moreover,
hydro excavation can also be beneficial in terms of safety
. Traditional excavation methods can be dangerous and may cause accidents. Hydro excavation, however, is a non-destructive method and can be done in areas where other excavation methods can't be used, such as in areas with underground utilities and other obstacles. This makes hydro excavation an ideal method for projects that require excavation in densely populated or sensitive areas.
In conclusion, hydro excavation is an environmentally-friendly method of excavation that offers several benefits over traditional methods. It causes less disruption to the natural landscape, reduces soil compaction, has a lower carbon footprint, and is safer to use. As a result, hydro excavation is becoming an increasingly popular choice for many construction and utility projects. To maximize its positive impact on the environment, it is important to ensure that proper water treatment and sediment control measures are implemented during hydro excavation projects.
Contact Hole Hogz today to discuss your next excavation project. Our service area includes Las Vegas, Henderson, Boulder City, and most parts of Clark County Nevada. We service residential, commercial, and municipal customers. We are the hydro excavation market leader in Nevada.